"La Nutrizione Biochimica Invisibile"
Catia Cecchini
Edizioni Argonautiche, 2010.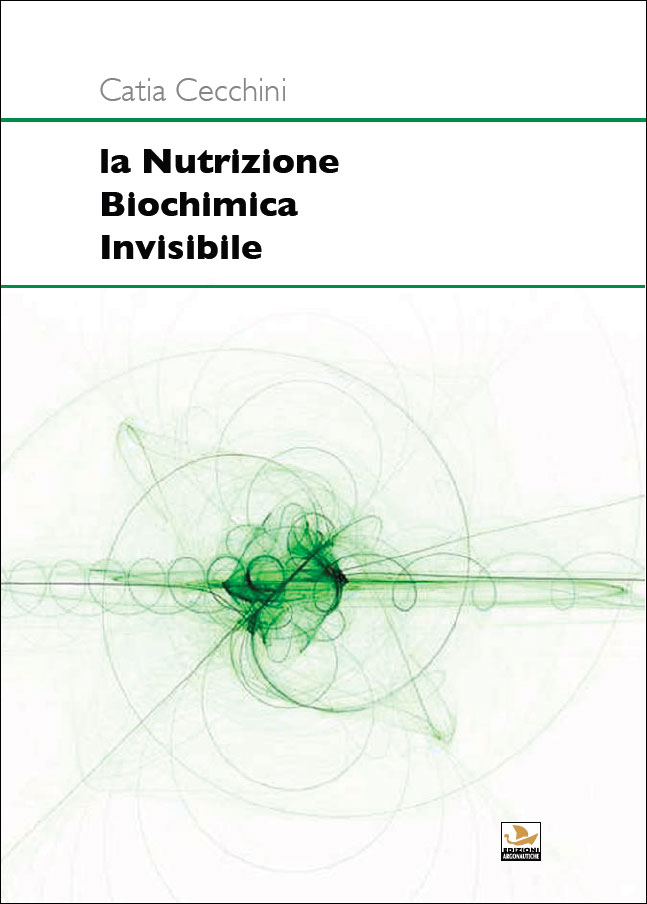 'La Nutrizione Biochimica Invisibile' proposes a voyage into the science of nutrition, according to a traditional analysis supplied by the general principles of biochemistry, then leading to an innovative investigational method, which considers not only the chemical-biological aspect of food but also the electromagnetic aspect.
Such a concept, backed by intuitions and the studies of many illuminated minds of the medical tradition, is based on an integrated vision both of science in general and of the human being, meant as body, energy and psyche, and as part of a Whole with which it is in continuous exchange. Here therefore is an innovative way to investigate alimentation and the dietetic science as the fundamental instruments to encourage the total balance of the individual.
The 'Method to determine mineral salts in organic samples' patent, the property of the writer, is the fruit of intense study and deep research, and opens new application possibilities in the dietetics sector.
The method, used for metabolic imbalances causing such disturbances as excessive weight, insomnia, anxiety and psychic alterations, is applied also as a prevention so as to obtain psycho-physical wellness to improve the immune defence system and so prevent degenerative pathologies.
Catia Cecchini
Born in Florence in 1972, she is a researcher, nutritional consultant and a laboratory technician, qualifications obtained from the Department of the Physio-Pathological Clinic of the Faculty of Biological Science of Florence University, listed second in the public exam of laboratory technician.
She has attended the course of 'Dietetics' at the School of Traditional Acupuncture in Florence.
In 2004, in collaboration with qualified doctors, she set up 'Caduceus of Hermes '®, a research project in the biomedical sector. In the same year, in collaboration with specialists in the sector of genetic engineering, she set up an experimental project of environmental decontamination by ionizing radiations.
In 2005 she registered the 'Method to determine mineral salts in organic samples' patent at the national level; at present, the patenting process at international level is in course.
Today, she continues in her research in the biomedical field and in her studies of Medicine.